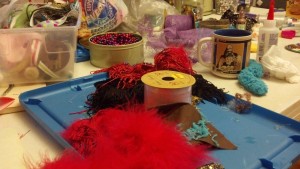 Groups and Classes are conducted through the non profit, The Art Experience, Inc
PATHFINDERS
Therapeutic Art  Group for Girls at the Art Experience
Friday Afternoons from 4:30 to 6 -ongoing
at the Art Experience 2227 N. College in Fayetteville.
Art making in groups is a very fun and powerful way to find your own solutions to problems, share your work, thoughts and feelings with others your own age. We will be working with lots of different materials so that you can get a chance to try out your creativity in many ways. Some examples of what we will use are: drawing, painting, sculpting with clay, paper, plaster or found objects, of using collage, mask-making, puppet-making. Creating our stories in art to express ourselves and find some solutions to personal problems at the same time.
We will meet weekly to do art and talk.. No experience is necessary, although you do need to visit with Jo Ann before beginning..
Currently the sessions are free.
Adult Creativity/ Art Therapy Support Group
Wednesdays 12-1:30-pm
Cost $150 ($25/session) 6 week group
The group uses art making to explore and process their lives in a safe therapeutic environment. You
may journal, make collages, paint draw or work with clay in this group. No experience
required. Maximum 8 Participants. Registration required

Masks for Change
A personal growth group
 February 2- March 16
$135 includes materials for 6 weeks

Are your ready to recreate your life through art? Here is your hands-on opportunity to make your own MASK OF CHANGE. We use the metaphor of the Mask to look at our lives, see what we need to do and find the courage it takes to make the changes. Jo Ann has created a supportive, non-judgmental setting, where creativity and search are welcome. You will work with a varied array of art materials, journaling, sound and movement to develop your own spirit mask to bring forth transformation in your life.
Highlights
Visual arts experience
Movement
Drama
Personal exploration in a supportive group atmosphere
Applications for play therapy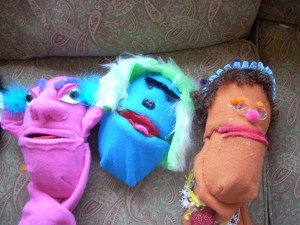 Puppet Class
TBA
Saturdays 10:00 am- noon
Cost $100 ($25/session) 4 week session
Ages 8 to adult
Students learn puppet making, puppeteering, storytelling, and performance techniques. Emphasis is
on cooperative storytelling, expanding creativity, mastering puppet making skills, and building
friendships. Maximum 8 participants. Registration required.